Biodiversity in the bush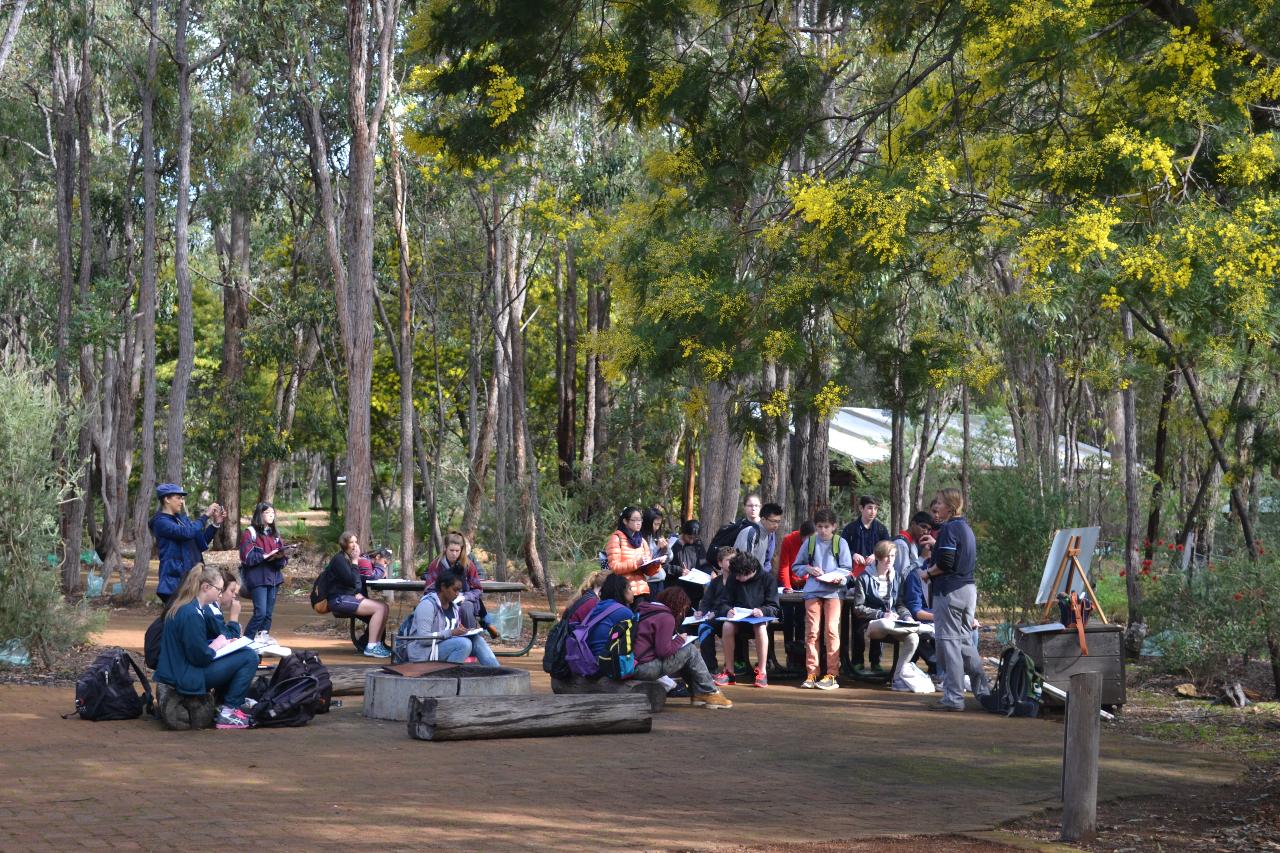 Duration: 4 Hours (approx.)
Years 7-10
Plants need animals,animals need plants. But do they need humans? On this excursion students will explore, through hands on activities and field visits, the biodiversity of our forests, its inhabitants' relationships and how humans are impacting and managing the forest ecosystems. Create your own excursion for a single class or up to a whole year level through our choice of activities.
Please read through all the below options carefully as you will be asked to select your core activity and optional activities on your booking request form.
Core activities; choose one of either:
Biodiversity observations
What is in our forests? At several locations in the forest students will observe and record the diversity of plant and other life in the environment. Students will then group the diversity based on similar features and use provided keys to identify their findings.
Science, HASS, Priorities - Sust Duration – 1 Hour 40 minutes
Protecting our threatened fauna – Western Shield
Our wildlife is under threat! So how is Parks and Wildlife managing the threats to our unique native animals. Students will learn about our unique wildlife conservation program – Western Shield. How do we monitor fauna populations? What strategies are we employing to limit the threat posed by introduced predators?
Science, HASS, Priorities - Sust Duration – 1 Hour 40 minutes
Optional activities:
choose
Animals in their habitats
Does a section of the jarrah forest have the resources necessary to support a reintroduced population of one of our threatened species? Students explore the forest as habitat by looking into food webs, shelter requirements, vulnerability to predators to decide which threatened species should be re-introduced to this area.
Science, Priorities - Sust Duration – 1 Hour 40 minutes
OR TWO of
Changing times - changing forests
After nearly 200 of harvesting timber, our jarrah forest now is very different to its original condition. Students explore management actions to reduce negative impacts on the forest ecosystem.
Science, HASS, Priorities - Sust Duration – 50 minutes
Plant survival techniques
On a forest walk students will discover the range of strategies plants utilise to survive in our harsh environment. Strategies include – symbiotic relationships, leaf modifications, hidden and protected growth points, leaf coatings.
Science
Duration – 50 minutes
Animal evidence
When in the forest you won't always see animals but they leave their "evidence" behind. Using keys students will unlock evidence to determine a range of forest dwellers.
Science
Duration – 50 minutes
Eco walk
Enjoy a guided walk through the forest, focusing on key plant species and signs of animal activity.
Science
Duration – 50 minutes
Animal encounter
Get up close to some of our unique native mammals and learn about their special adaptations to the Australian environment.
Science
Duration – 50 minutes
Science (7,9), HASS (7,9,10)

COST: $16.50 per student (minimum payment for 20 students) includes GST.

Excursion runs from 10am to 2pm including morning tea and lunch times. Groups arrive at 10 am then have 15-20 minutes for morning tea, activities commence after morning tea. Finish times can be adjusted to your needs.
Venues:
Perth Hills Discovery Centre, Mundaring

Forest Discovery Centre, Dwellingup
Please note:
Maximum students per group is 30. Multiple groups can be accommodated.

Our booking officer will get back to you via email to confirm your excursion within 7 working days.



Planning your visit:
If you have any questions in regards to this activity, please email us at n2n@dbca.wa.gov.au. You need to submit and online enquiry form for any program, no bookings will be taken via email or phone.